Startseite
:
Kategorien
: Ueber Astrogirl
Nie gesehen.
astrogirl, 18:32h
Die DVD mußt du mir wirklich mal leihen, Cirrus.


(Gestern, als ich den angeblich ungenaueren Test machte, war mein Ergebnis noch ein anderes: "Schindlers Liste". Schade, daß es heute ein anderes ist, denn der ging so wunderbar konform mit folgendem Ergebnis.)


(Keine Sorge, Cirrus, dein Ergebnis verrate ich nicht. *schmunzel* Stell dir vor, an dem Test wäre das dran! Da könnten wir uns schonmal in die Haare bekommen, glaube ich.)

Schade auch, daß ihr die Ergebnisse nicht halb so lustig finden werdet wie ich.
A.S.T.R.O.G.I.R.L.
astrogirl, 19:17h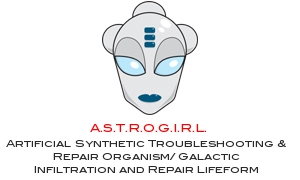 www.cyborgname.com
Cheesy.
astrogirl, 22:55h
Cheese Test: What type of cheese are you?
These cheeses are made from goat's milk. They come in many sizes and shapes, such as round patties, log-shapes, drum-shapes, pyramids, round loaves, long loaves etc.; their textures vary from soft, but firm like cream cheese to extremely hard. Chevres are excellent dessert cheeses, often served as snacks or before dinner drinks. Goat cheese is often served as an ingredient in many fine dishes.
[ Country: France || Milk: goat milk || Texture: semi-hard ]
Hätt' ich nicht gedacht. Aber wer vergleicht sich schon mit 'nem Käse.
Es kommt noch besser...
astrogirl, 16:48h
-Perfect-
You're the perfect girlfriend. Which means you're rare or that you cheated :P You're the kind of chick that can hang out with your boyfriend's friends and be silly. You don't care about presents or about going to fancy places. Hell, just hang out. You're just happy being around your boyfriend.
What Kind of Girlfriend Are You?
brought to you by
Quizilla
Ich schmeiß mich weg! Das ist echt lustig! Und so unwahr. Glaube ich (ich hatte noch nie eine Romanze mit mir selbst).
Ich muß dringend noch ein paar dieser interessanten Tests machen.
Was ich schon immer wissen wollte...
astrogirl, 16:25h
A GIRLY-GIRL.
You dont have a lot of self-esteem and people are always bringing you down for being sad. What do they know, anyway? You feel like you're too mature for your age and are frustrated by the trend-followers who refuse to accept you because youre not like them.
Your virtues: Intelligence, understanding nature, modesty.
Your flaws: Lack of social life, inferiority complex, timidity..
What kind of girl are you?
brought to you by
Quizilla
.
* LOL *
Aufschlußreich, diese Tests...
Für die, die's interessiert...
astrogirl, 03:12h
... seltsame Phrase für so ein Blog... äh... egal.
Anyways, bitte:
I am 70% Geek
Nerd, Freak, Geek, Dweeb. Sound familiar? That's okay, cause I will be the richest person at my 15th year high school reunion. If a "con" isn't happening that weekend.
Take the Geek Test at fuali.com
Ich wußte es.